Royal Palm Yacht and Country Club
Boca Raton, Florida 33432
For over half a century, Royal Palm Yacht and Country Club has upheld its reputation and tradition of excellence, notably being recognized among the elite clubs of South Florida as one of the Gold Coast's finest. From its beginning, quality and distinction has always been the club's hallmark. Today, its still remains one of the very few private, by-invitation-only clubs in the country.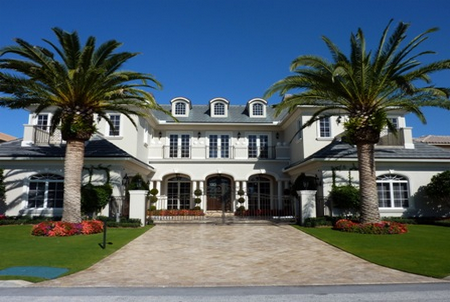 Club membership is not mandatory when buying a home in Royal Palm Yacht and Country Club. However, joining the Royal Palm Improvement Association (RPIA) is required for all homeowners in Royal Palm. The community and the Club are not affiliated. New members are required to pay a $1,000 application fee and currently the annual Homeowner's Association annual fee is $2,311 per lot. What is most significant and of special note is that there has never been a special assessment in the past 50 years.
Construction commenced in 1959, with stringent architectural and building standards for its time. The developer, Arvida Corporation wanted to ensure that the aesthetics and amenities of the community would be far superior than other comparable area communities.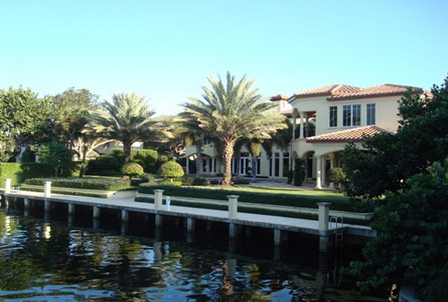 The development was named Royal Palm Yacht and Country Club for the stately royal palms that line Camino Real on its northern border and was also the first Boca Raton community with guarded entry. Royal Palm has private security which is staffed by the Royal Palm Improvement Association (RPIA). The officers are State of Florida certified and fully trained in CPR and fire-arms. At all times there is a roving patrol and guards posted at each of Royal Palm's two entries.
Throughout the years, Royal Palm has undergone many changes, originally the community was predominantly comprised of one-story, Bermuda-Style cottages on 742 home sites. At the outset of design the community was made up of 229 waterfront, 285 golf course and 231 interior lots. Today, approximately 200 of the original homes still exist. Over the last couple of decades over 400 of Royal Palm's original homes have been redeveloped to accommodate much grander, larger estates of substantial square footage, outfitted with today's most modern, and luxurious amenities. A few residents have purchased adjacent lots to increase their property size, resulting in the community having a little over 688 home sites in its present day.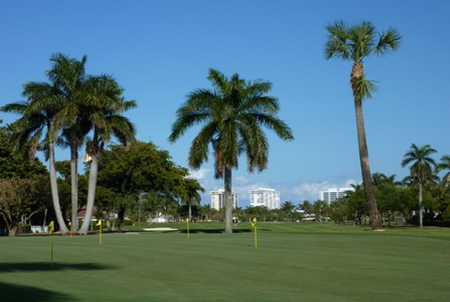 The golf course at the Royal Palm Yacht and Country Club was originally a Robert Trent Jones, Sr. design back in 1959, then it underwent a few changes supervised by Joe Lee just before it became a Jack Nicklaus Signature course in 2002. Gorgeous blue lakes and many water features, including marshy wetlands filled with native aquatic plants, strategically placed bunkers and smaller, well protected greens are not the only challenges awaiting the Royal Palm Yacht and Country Club golfer. Large lushly landscaped areas have been carved between several holes, creating a new dimension of risk and adding to the visual relief of its emerald green fairways. Beautiful and challenging, as all Nicklaus golf courses are, the Royal Palm course is a joy to play!
Exclusive Royal Palm Yacht & Country Club is renowned as the signature address of prestigious living for Boca Raton Country Club Real Estate, and it's prime location set across from the renowned Boca Raton Resort and Club offers its residents a wide-range of activities and world-class amenities. Elegant, private and run by a staff well-versed in providing efficient and unobtrusive service, the Royal Palm Yacht and Country Club is a great place to visit and an even better place to live. The services are unbeatable and include additional facilities for tennis, croquet, fitness and yachting. Six perfectly maintained Har-Tru courts are located next to the 7,000 square foot Fitness Center where residents have a staff of certified professionals to provide them with personalized instruction and guidance to realize all their fitness goals.
As its name implies, the Royal Palm Yacht and Country Club is also a yachting community. You can dock your boat at the marina. Situated in a safe a well-protected bay, with ocean access only minutes away. The marina accommodates vessels from 8′ to over 120′ with a full-time Dock Master to assist residents or members with all their yachting needs. The marina provides fuel service on property, has reciprocal privileges with 35 other private yacht clubs, organizes excursions and features traditional regattas.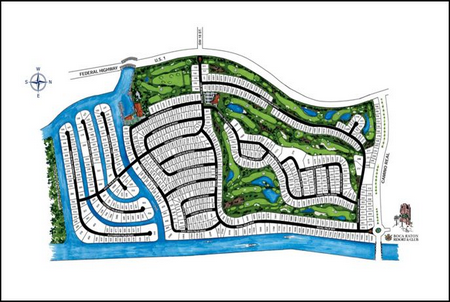 In 2005, the United States Croquet Association (USCA) named Royal Palm its "Club of the Year". The Annual Royal Palm Croquet Invitational is host to world-class players and the notable community also has three members that have been inducted into the National Croquet Hall of Fame.
After sampling all that Royal Palm Yacht and Country Club has to offer, guests and members can enjoy a scrumptious meal in either the Yacht Clubhouse or the Golf Clubhouse. Royal Palm offers a variety of unique dining experiences where one can mingle with their neighbors.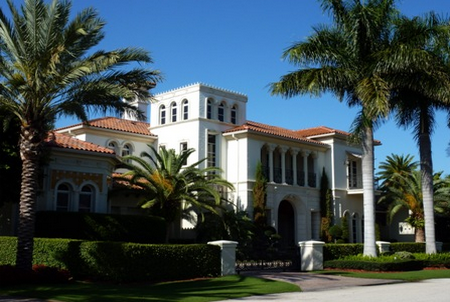 Royal Palm Yacht & Country Club's central locale in Boca Raton provides South Florida residents with a veritable cornucopia of shopping, dining, entertainment and recreational options. Palm Beach's luxury brand boutiques of Worth Avenue, Ft. Lauderdale's Las Olas yachting paradise and Miami's world class nightlife and entertainment along South Beach are close at hand. Nearby cultural attractions include: the Morikami Museum and Japanese Gardens, the Boca Raton Museum of Art, Palm Beach's Henry M. Flagler Museum and Norton Museum of Art, and the Kravis and Broward Center's for the Performing Arts. If you find the sporting life to be more appealing, Royal Palm Yacht & Country Club's convenient South Florida locale to the International Polo Club of Palm Beach, Royal Palm Polo Sports Club in Boca Raton, and the Delray Beach Tennis Center play host to numerous championship and celebrity tournaments throughout the year, while the Dolphins, Marlins, Heat and Panthers home stadiums are all within an hours drive.
Exquisite Gold Coast beaches and exclusive Mizner Park are close at hand. Royal Palm Yacht and Country Club is conveniently located between Ft. Lauderdale and Palm Beach International Airports, and only a short drive to the Boca Raton Private Executive Airport. Invest in a luxurious home in the Royal Palm Yacht and Country Club and start living the lifestyle you've always wanted.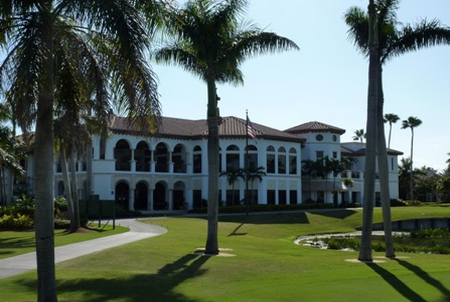 Please Click Links Below For More Information
Boca Raton Country Club Real Estate
Boca Raton Country Club Homes
Boca Raton Country Club Realtor
All Photography and Community Details courtesy: