Take advantage of all South Florida has to offer with luxury Palm Beach County oceanfront estates for sale. Living life with the beautiful Atlantic Ocean just steps away is a dream come true, whether you want a year-round residence or a vacation spot to call home. To find waterfront homes and oceanfront condominiums for sale in Boca Raton, call the real estate specialists at Luxury Resort Portfolio – The Definitive Source For Luxury Real Estate In South Florida.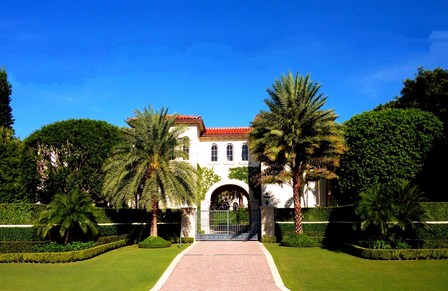 Our Boca Raton boutique luxury real estate firm provides you with personalized service from our highly successful South Florida real estate specialists and believe that luxury real estate should be defined by the knowledge and experience of the real estate agent, not by the size of the real estate agency. Luxury Resort Portfolio co-founders and Palm Beach County Realtors Philip Lyle Smith and Carla Ferreira-Smith, "The Smiths", are widely known for their real estate expertise in the Boca Raton waterfront area and are trusted by their affluent client list of buyers and sellers searching for exclusive properties in South Florida.
The lavish residences that line the eastern Gold Coast of the Atlantic Ocean display design elements reserved for the world's most elite home buyers, as well as the convenience and proximity to the Boca Raton Executive Airport, the exclusive shops and restaurants of Mizner Park, Royal Palm Place, Boca Town Center and the Boca Raton Resort and Club.
Palatial Boca Raton oceanfront mansions for sale offer homeowners an exclusive and luxurious waterfront lifestyle. With all of the comforts of a plush, amenity-filled Palm Beach County beach front estate, these homes hold the treasures of which dreams are made. Take a tour of the finest real estate listings here today, so you can enjoy direct access to the sun and surf, as well as pleasure cruising and power boating that makes life on the beach such a delight.
Let The Smiths of Luxury Resort Portfolio offer you a fabulous selection of oceanfront estates, beach-side residences and Intracoastal waterfront homes in the Atlantic Ocean communities along the Gold Coast of South Florida, including:
These properties feature homes of distinction that would have made historic Palm Beach Island architect Addison Mizner feel right at home, as the architectural style of many of these oceanfront properties draws inspiration from the graceful Old-World Mediterranean charm of his own distinctive style. It's a small wonder that Boca Raton real estate is reputed to be "the world's most architecturally beautiful playground."
Luxury Resort Portfolio – The Definitive Source For Luxury Real Estate In South Florida extends an invitation to you to explore grand Atlantic Ocean waterfront mansions from Boca Raton up through the Palm Beaches with the expert guidance, exceptional customer service and personalized real estate services of Philip and Carla Smith, the South Florida luxury real estate brokers more high net worth buyers and sellers trust for the purchase and sale of their most important acquisitions.
CONTACT US TODAY to start the search for your Boca Raton, Delray Beach or Manalapan waterfront mansion. We proudly serve clients in all South Florida oceanfront and Intracoastal communities.
Luxury Resort Portfolio Welcomes The Opportunity To Assist You With Your Next South Florida Luxury Real Estate Transaction
No results found